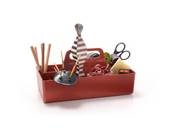 To become efficient, you need the right tools and the right mindset. I have encounter a lot to attorney's that have one, but not the other. This usually has fatal consequences. Lawyers iPads typically have dozens of applications and when asked how each applies in their practice, the deer in the headlights look appears (maybe there's an application for this). In any event, most of their applications have crossover application or are duplicative. Having them only creates a distraction. The key is to have only the applications you use on your ipad, otherwise, it's a toy (my children mindlessly download game-after-game without knowing how to delete). That said, the right instrument is only as good as the musician using it. Even if you have the right applications on your ipad, you have to be committed to using them. This is hardest part for most lawyers. They have engrained themselves into the paper and pen, paper folders and bankers boxes that they are afraid to shed the weight. They need to take a load off.

I have chosen to be simplistic. A lot of applications others profess are "must haves" are not on my ipad. I tried them and simply didn't find them useful in my practice. That doesn't mean the applications I use are the best for you, they just work for me and the way I practice. This is all about being practical. Use what works for you.

That said, here are my tools of the trade and a brief description about how I use them:

BELKIN: I use the Belkin QODE wireless keyboard case. Its keys are well spaces, it's extremely thin and light and made of aircraft-grade aluminum alloy. It's Bluetooth integrated and uses magnets for viewing angles and to keep it closed when not in use.

LIVESCRIBE: I use the Livescribe 3+ pen that integrates with my ipad through the Livescribe + application. Like magic, what I write on my ipad transfers to my ipad. I can then convert it to text and send. It also integrates with Reminders allowing me to instantly create a reminder.

CLOAK: I use Cloak to secure my network connection. This provides me with an added level of security and ensures that I am in compliance with ethical standards to take reasonable steps to protect client data.

DROPBOX: I use Dropbox to access my court files, drafts and incoming mail. Dropbox allows me to work from anywhere; literally (I have worked from foreign countries, from international waters and from my local Starbucks).

EVERNOTE: I use Evernote as my research assistance. Within Evernote, I have created Notes for different subjects within my practice. Within each, I put everything and anything legally related to that subject. I am then able to use Evernote's word search function to find it later. This is extremely useful and alleviates the necessity of having a photographic memory.

WORD: I review, revise and create a lot of letter and pleadings. I used to use Pages and converted the moment the Word application was introduced. It's is great. No conversion issues like with Pages.

TRIALPAD: I use Trialpad to organize my case files from the initial hearing through trial. I am able to mark up documents, create evidence folders and track which exhibits have been admitted into evidence. My case files in Trialpad are saved locally on my ipad and consequently, there are no security issues.

WESTLAWNEXT: I use the WestlawNext as my primary source of research. Having the ability to conduct legal research in the middle of a hearing is vital. I also use Blacks Law Dictionary, the California Code and the California Rules of Court applications. The days of lugging those heavy code books and research materials to court in a rolling cart are gone. I have instant access to everything I need.

ADOBE READER: I use Adobe to review, markup and sign PDF's.

E-TRANSCRIPT: I use E-Transcript to review and mark up transcripts. The transcripts are stored locally on my ipad. Its search function is particularly useful. I can instantly search hundreds of pages. The alleviates the need for having to use the index and review multiple pages. The search term immediately appears to the right with page and line reference and in the context upon which is was used. This is vital when a witness is testifying.

MYSCRIPT CALCULATOR: A unique application. You write the arithmetic calculation and answer is provided.

LOGMEIN: Allows me access to a computer in my office when need be.

I also use Apples NOTES and REMINDERS. I uses Notes for billing and calendar memos and Reminders to keep me on schedule.

I also use other applications that are specific to my practice. These include the DSM IV and DISSOMASTER.

Thanks for reading. If you have questions specific to my use of any application and/or want more of an in-depth description as to how I use an application, feel free to send me an email.